Find the answers to commonly asked questions
or drop us a line to let us know you're having issues
Request Technical Support
Always Be Sure You're Running the Latest Version
​
1. Close out of all Visio & PowerPoint windows
2. Open PowerPoint or Visio
3. Click 'New Version Available'
4. Select 'Yes'
5. When the download box goes away, close out of Visio or PowerPoint
6. Allow download to finish and agree to Terms. Click 'Finish'
7. Re-Open Visio or PowerPoint
8. You should be updated, if not, close out of Visio or PowerPoint again and re-open.
​
Technical support directory
Licensing
How do I receive software updates?
---
In version 3.0 you now have the ability to update your software from within the plugin.
---
How do I check what software version I am running?
---
Follow these steps to learn what version your machine is running: 1. Open Visio or PowerPoint 2. Toggle the Pro Quick Draw Menu On 3. Select the Licensing Button 4. Select the About Tab You should be running at least 3.0. If you are running 2.0, please contact us for a download link.
---
I forgot my login credentials
---
If you do not remember your username, you can refer to the original email sent to license your machine or you can contact us and we can provide to you. If you forgot your password, you can reset your password within the plugin under the Licensing Button. The password reset will send to the email address username on file. For privacy reasons, we do not hold any passwords on file.
---
How do I license my machine?
---
1. Click the download link to run the install if the trial was not yet installed
2. After successfully downloading, open Microsoft Visio or PowerPoint.
3. On the "Home" Toolbar, you will see a licensing button (wrench icon) on the toolbar.
4. Select the Licensing button, then enter your username and password to register each computer (if you skip this step the plugin will function on a trial basis).
5. Select the Pro Quick Draw icon to toggle the Pro Quick Draw plugin on. If you have more than 1 license as a part of your subscription, all machines share the same username and password You can change your password at any time If you are still within the trial timeframe and don't license your machine, you may get booted out of the plugin when your trial ends.
---
I got a new computer and want to transfer my license
---
There are several reasons you may to transfer your license such as: 1) You have a new machine 2) A coach has left the staff 3) A new coach is on the staff Please reach out to Customer Care (contact@proquickdraw.com) and we will manage your licenses with you. We can review license count and machine count. Please have your computer host name ready.
---
How many days are left on my trial?
---
On the home toolbar, select the 'Licensing' button. Under the 'About' Tab it will tell you how many days are left in the trial or subscription.
---
---
Toggle Panel
My toolbar is greyed out and I can't click any buttons
---
If the features on your toolbar are locked, it means your plugin is in trial mode and the trial expired. If you are a current customer, refer back to the username and password you recieved from us. Once you license your machine once, you should not have to license it again for a year. If you need to reset your password you can do so by following the prompts, but just remember all machines in one organization share a username and password.
---
My Toggle Panel is Missing from my Home Menu
---
Go to File > Options > Add-Ins Check to see if Pro Quick Draw is an active or inactive add-in If inactive, click 'Go' next to the Manage: Com Add-Ins dropdown Put a Checkmark next to Pro Quick Draw Click 'Ok'
---
---
Templates
Can you customize page layouts?
---
Absolutely! See the Video Tutorials for 'Template Editor'. You are able to completely customize the templates in any way that your team prefers. The process is easy to learn and you are able to take a current template that you may be using and convert it to a customized template for you to use for your entire season.
---
I am having a problem with adding a play to my template. Is it the drawing or the template?
---
If your template accepts another drawing without a problem, then the issue is not the template. If this happens, I would take a drawing you know is working in that template and recreate the drawing that is giving you trouble. If the template is not accepting any drawings at all, then you have a template issue. Refer to the video tutorials on the 'Template Editor' to correct your template.
---
I'm unable to view the drop down of templates in PowerPoint
---
Click the Dialog Box Launcher:
Then browse to the location of the PowerPoint templates folder, by default it's here:
If you have a different folder, then browse to it and click the OK button.
Note: The templates must be PowerPoint files, you can't use Visio Templates in PowerPoint, or PowerPoint templates in Visio.
---
How can I save all my templates in one folder and access from any machine?
---
In the Page Templates section of the toolbar, click the Dialog Box Launcher button:
Browse to the location of the PowerPoint templates folder. By default, it is here:
If you have a different folder you would like to use, browse to it and click OK. Note: The templates must be PowerPoint files; you cannot use Visio templates in PowerPoint or PowerPoint templates in Visio.
---
I have opened a previously created document and I am unable to add plays
---
When you have the previously created document, make sure the 'Select Template' button has the template you were previously using selected. Once it has been selected, you can add plays like you were previously doing.
---
My Templates are not showing up when I click 'Select Template'
---
Make sure the Page Templates folder is pointed to correct location: Documents\ProquickDraw3\Templates\ 1. PowerPoint – Either the 16-9 or the 4-3 Folder within the PQD3 Templates 2. Visio – Visio folder (if 2010 version must be 2010)
---
How do I change the playbook so I'm not using the sample anymore?
---
Click the 'home' button, then click 'settings'. Choose a new folder location for the 'play library'. Click the 3 dots to change this path.
---
---
Formatting
Will resized images be uniform in size, or is there a need for a base template for each individual drawing in order to ensure uniformity?
---
Resizing occurs automatically along with centering within the space designated in your template box. This is one of the best features of Pro Quick Draw because it does not distort your drawing. The appearance is clean and the resizing occurs depending on the size of your template layout. For example, if you use a 4-box template layout on a standard piece of paper, your images will automatically enlarge to fit the parameters of the space provided. If you are using an 8-box template, the size of your space in each box will naturally be smaller because you are now putting 8 drawings on one page. These drawings in the 8-box will now shrink to fit based on the space provided in your 8 box template.
---
I'm having an issue with the text not formatting in my drawing
---
It could be that the box containing the text is smaller than the text. Visio will report the size of the containing box, so when you try to move it, you use the width of box, not the width of the text: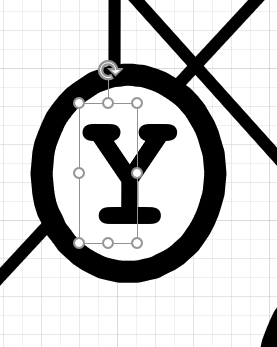 If you resize the width of the box around the "Y" like below, you should be good to go
You can also select the object that contains the text, go to the paragraph dropdown arrow.
From here select "Text Block" and change the Margins all to 0.Your text should now be centered within the shape.
---
---
Features
How does the program decipher the difference between 'play name' and the drawing itself?
---
This comes down to how you choose to build your template design and layout of your plays. Some teams use a text box to occupy the "Play Name" in a rectangle box on their template. In this case, the Template Editor allows you to identify a text box area to pull from. (See 'Template Editor' tutorial). In other cases, teams elect to build a template that does not have a text box and list the play name at the top of the drawing. In this case you would not need to build your template that way. You are able to do either depending on the work flow of your team.
---
Does a 'blank play' image appear on a printed copy?
---
The 'Blank Play' option is there as a place holder and does NOT appear on your printed copy.
---
Do you press 'update' to override a 'blank play' or does the 'add' feature override?
---
'Update' is often used when most coaches are manipulating edits. If you have a 'Blank Play' and then put a drawing in that space, 1. Select the drawing from your drop down menu 2. Select "Update". The 'Add' feature is selected when you want to place a drawing in the next available template space that is open.
---
What's the difference between 'Clear Leave' and 'Blank Play' ?
---
You would select 'Blank' if you know during your layout process that you want to leave a box empty and move on to the next available box. You would use 'Clear Leave' to remove a drawing that you already have placed in your template that you want to remove and leave the space empty.
---
How do I access the shape library?
---
There is a file in the Documents\ProQuickDraw3 called 'Shape Library'. This will allow you to copy/paste the blocking lines into your drawing. Add one of our basic formations or other drawing to a template, select that specific drawing within the PowerPoint and click the PQD 'Save As' button. This will create a copy of that file and you can change the name of the file to begin creation of new play. When that opens, make the changes, close and save. This will update the drawing and add that specific play to the folder you selected in the Save As menu.
---
---